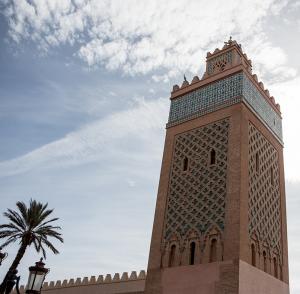 California middle and high school teachers are invited to apply to travel to Morrocco, June 26 - July 26, 2017. 
UC Berkeley's Center for Middle East Studies and Fulbright-Hayes Group Projects Abroad offer this oppportunity:
"At the crossroads of sub-Saharan Africa, the Middle East, and Europe stands Marrakech, one of the Islamic world's greatest capitals. As the preamble to the 2011 constitution of Morocco proclaims "[The Kingdom of Morocco's] unity is forged by the convergence of its Arab, Islamic, Berber, and Saharan components, nourished and enriched by its African, Andalusian, Hebraic and Mediterranean influences."
Jews and Muslims will delve into that convergence during a month-long program dedicated to the study of the ethnic, cultural, and religious complexity of Morocco through study of darija (the local Arabic dialect) and Moroccan Jewish civilization with renowned specialists Professor Emily Gottreich (UC Berkeley) and Professor Aomar Boum (UCLA). 
Participants will live and study within the madina, a walled city and UNESCO World Heritage Site built in the heart of Marrakech in the 11th century CE. A few minutes' walk brings one to Jma al-Fna, a plaza like no other in the world. Every night it comes alive with acrobats, storytellers, fortune readers, dancers, musicians, food stalls, traditional dentists and healers, snake charmers, and as of late, a man who dances with three large owls. The nearby Gueliz district reflects the colonial past of Morocco, and excursions to the mellah— the historic Jewish quarter— and various shrines and pilgrimage sites lend nuance and depth to participants' understanding of interaction and syncretism among adherents of Judaism and Islam. Other, longer trips to the high Atlas Mountains and the Atlantic coast are planned..."
The full cost to teachers will be a $500 non-refundable deposit plus personal spending money. For more details and to apply by January 3, 2017, please visit the website.
photo credit: davidxvx Marrakesh (31 of 133) via photopin (license)