Dear Students,
My name is José L. Marrero-Rosado, and I am a bioarchaeologist who works primarily in the Caribbean. As a bioarchaeologist, I study human skeletal remains in archaeological sites in order to learn more about the life of past populations. I am currently a PhD candidate in Anthropology (Archaeology is one of the four main subfields of Anthropology, the study of humans) at UC Berkeley, where I am completing my dissertation on structural violence and infectious disease, and how we can study their relationship in the archaeological record. Admittedly I never thought I would become an archaeologist, as me pursuing this career happened almost by chance. In college, I majored in Biochemistry, but got exposed to archaeology through a class that I chose just because it fulfilled two different requirements of the liberal arts curriculum. Fast forward two years after taking that class, and I was applying to a doctoral program in archaeology. 
Archaeology is truly a fascinating field. There are three things that I love the most about this field. First, you get to travel and learn about different cultures, past and present. Second, you get to discover things, as well as finding artifacts that no one has seen for centuries or even millennia. Finally, you get to contribute to, confirm, and at times, challenge, what the history books say about a particular area, group, or period.
In this kit you will find information about the indigenous inhabitants of the Caribbean, particularly the Taínos. This kit will cover migration, cultural encounters, adaptation, climate and environmental change as key factors that shaped the pre-1492 (i.e., before Spanish arrival) Caribbean history. Additionally, I'll tell you about topics such as sports and mythology to reach a more balanced and complete picture of who the Caribbean indigenous were and how they lived. To contextualize some of this information, I will discuss a few examples of archaeological sites in the Caribbean, primarily the site of Caguana (Utuado, Puerto Rico) and Playa Jayuya (Fajardo, Puerto Rico). 
For me, everything included in this kit is extremely meaningful, as it provides a glimpse at the lives of my ancestors as they settled into what was to become our home. I still remember when I saw my first piece of ceramic at Playa Jayuya and thought: "My ancestors made this over a thousand years ago, and now I am holding it". 
I hope you will find this kit informative, and as exciting and meaningful as I do.
José L. Marrero-Rosado
PhD Candidate at UC Berkeley
Introduction to the Taíno World
Who lived in the Caribbean before the Spanish conquest? Most people, including locals, will answer with "the Taínos". This answer is not entirely wrong. However, it simplifies the rich and complex history of this area. The Taínos were without a doubt the cultural group that reached the highest levels of political organization in the Caribbean. They practiced agriculture and were more skilled in the arts than the people who came before them. Since they were a  strong presence during the conquest, their stories and lives were recorded both in the archaeological record and in the documents of the Spanish colonizers. Before going into detail about this society, we need to first get a sense of the timeline of this area. There were multiple migration waves that resulted in distinct cultural groups through time, culminating with the rise of the Taíno.
The Caribbean (see Fig. 1) is in the tropical region of the Americas and is made up  of over 100 islands in close proximity to each other. When the first Native American explorers arrived 6,000 years ago, they would have seen an environment that resembles what we see today: warm and humid, with dense vegetation. There were some important differences, however. First, most islands were much larger back then. They are smaller today because of sea level rise after the end of the last glaciation period 11,500 years ago, as well as erosion from natural factors such as hurricanes. Second, the plants and animals were also different from what we see today, as most species present now in the Caribbean were introduced by its inhabitants over the past several thousand years. Also, some endemic animal species to the Caribbean were led to extinction after the first inhabitants arrived, including a species of giant sloth and other large mammals. Finally, when the first inhabitants arrived, they would have seen lands with much denser vegetation than what we see today. This was mostly because European colonists used the islands to grow valuable crops, like cotton, sugar, tobacco, and coffee. They made their enslaved workers clear thousands of acres of land to grow these crops.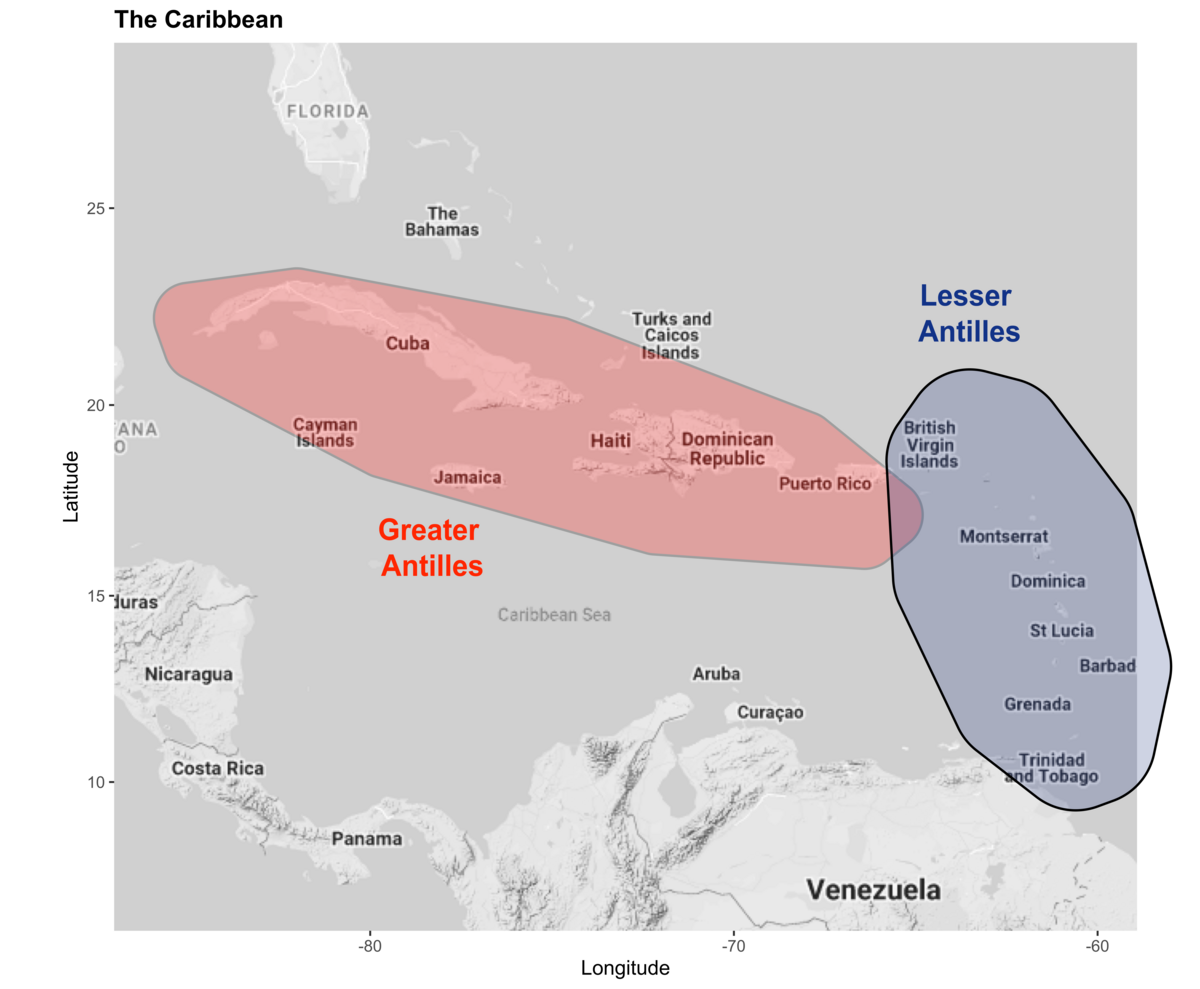 The first indigenous explorers reached the Caribbean nearly 6,000 years ago (see Fig. 2). Since then, the Caribbean saw multiple migration waves from both Central America and South America. These multiple migrations led the Caribbean to become a place of cultural encounters, where different cultural groups would meet and assimilate (i.e., become more similar), and then diverge and differentiate. Above, you can see a general timeline of the main migration waves and the main cultural groups in the pre-1492 Caribbean.
From the timeline, we see that the Caribbean changed over time, and that migration and cultural encounters shaped its history. In the early days of Caribbean settlement, you would expect to see the Archaic people foraging and practicing horticulture at a small scale. Their villages showed them to be egalitarian societies, with no clear difference in size or location of buildings based on some people being more important or wealthy than others. By the time we get to the Taínos, however, we would see the people spending more time practicing agriculture. They also spent more time in ritual and leisure activities. Furthermore, the cacicazgos of the Taínos show that some individuals had more power. We can see this because some bohíos were bigger than others, and closer to ceremonial plazas.
Changing Narratives: The Taíno after Spanish Colonization
An area of constant discussion and debate within Caribbean history is what happened to the Taíno after the Spanish arrival. Most history books and historical narratives say that the Spanish eliminated this group within just a few decades of the Spanish arrival. Some of the evidence supporting this include Spanish accounts. One states that a Spanish missionary arrived in 1545 in Puerto Rico and only found about 60 Taínos. Disease, famine, and slavery are the main factors said to have contributed to such a rapid demise. 
Although it is believed that the Taínos as a cultural group were brought to extinction by the Spanish colonizers, oral history in the Caribbean has always suggested that some Taíno heritage survived from the intermixing of Spanish conquistadores, enslaved Africans, and enslaved Taínos. The extent of this survival, however, could not be measured. DNA studies changed this.
During the last few decades, DNA has become a central topic of research within pre-contact studies in the Caribbean. Initially, geneticists and anthropologists focused on studying the DNA of different living communities in the Caribbean that were thought to have stronger Taíno heritage. In Puerto Rico, these studies concluded that these communities and the general population shared a similar percentage of Native American ancestry. In other words, even though they were genetically similar, some communities had maintained a Taíno cultural identity, while others did not.
The last two decades has brought with it enormous progress in DNA research. Now we can obtain and analyze DNA from ancient samples. We can also sequence the entire genome of an individual (though it is harder with older samples). Additionally, we can also sequence mitochondrial DNA, which is inherited just from the mother, and the Y chromosome, inherited only from the dad. Using these techniques in the Caribbean, researchers have been able to sequence the DNA of over a hundred pre-Columbian skeletal remains from multiple islands (mostly from the Greater Antilles). From these data, researchers have concluded that current Caribbean inhabitants are indeed direct descendants of Pre-Taíno and Taíno groups, and that indigenous matrilineal heritage is strongly present today. Indigenous patrilineal heritage, on the other hand, is much less present today than the matrilineal counterpart. What does this mean? It means that non-Taíno men had children with Taíno women. This suggests that Taíno families and communities were destroyed, but individual Taíno people - especially women - survived and had children.
DNA data, therefore, has allowed us to see a more nuanced picture of the "demise" of the Taínos. They may not have survived as a cultural group, but their members did not disappear as quick as historical records suggested.
Ceremonial Plazas in Taíno Cacicazgos
As indigenous groups in the Caribbean explored, settled, and adapted to their new surroundings, over time, they were able to pursue other activities beyond subsistence. We can see the importance of Taíno rituals and leisure activities from the fact that their ceremonial plazas (Fig. 3) were located right in the middle of their cacicazgos. These ceremonial plazas were used almost exclusively for only two purposes, playing batey, and holding areytos
Batey was a ball game played by the Taínos, and it greatly resembles the ball game played in other indigenous groups from Central and South America, such as the Maya. The game consisted in hitting a rubber ball from one side of the court to the other, with the end goal of not letting the ball bounce more than once. Each team had over a dozen players. Interestingly, men and women played differently, as witnessed by some of the Spanish missionaries. Men usually hit the ball with their shoulders and thighs/buttocks, while women would hit the ball with their knees and closed fists. 
Areytos, on the other hand, were ceremonial events. They cannot be described as having a single specific structure, because it varied depending on the reason for having one. For example, Taíno communities held areytos before/after battles, as celebrations, after deaths, and sometimes for the sole reason of connecting to the spiritual world. These events included chanting, dancing, drumming, drinking, singing, and even the use of hallucinogenic drugs. To help people connect to the spiritual world, these ceremonial plazas were surrounded by stones, some of which were carved with anthropomorphic and zoomorphic petroglyphs. These carved stones were called cemís
Batey and Areytos were central to Taíno daily life. We can tell this because of the size and location of the ceremonial plazas where these were held. Also, these plazas were the most significant constructions of the Taíno. They put a lot of time and resources into building them, which suggests they were important to the community. Confirming this, some accounts of Spanish colonizers go as far as saying that the Taíno did not want to do anything except play batey and hold areytos. But keep in mind:  this is likely a biased perspective from a frustrated colonizer who was angry that the Taínos were resisting enslavement and forced labor.
Cultural encounters have been central in shaping Caribbean history and Caribbean people. But one may ask, how can these cultural encounters be so central when the Caribbean islands are divided by water? With a surface area of over a million square miles, the Caribbean Sea stands as the 6th largest sea in the world, beating even the Mediterranean Sea (~965,000 sq. mi.). Therefore, it is natural to think of the sea as a barrier. Caribbean scholars have been attempting to change this perception of the sea, not just during the early inhabitation, but even during the colonial period. The sea between the islands was not a barrier at all, and some scholars suggest that it should be seen as a highway instead. 
Seeing water as a highway is not too far-fetched. Back then, no one could travel as fast as we do today, but the technology to travel the sea was readily available even during the archaic period. In fact, until the invention of railroads, travel by water was the fastest form of travel all over the world.
To better grasp how Caribbean inhabitants were able to travel across islands, it is worthwhile to review again the map of the Caribbean region. This time, take a look at the distance from the Yucatán Península to western Cuba, and in South America from trinidad and Tobago to Grenada. These were the longest trips that the Archaic and pre-Taíno had to make. Other than those two places, all the other islands are within sight of each other, making inter-island travel and networks quite possible.
By the time the Spaniards arrived, the Taínos were using sophisticated canoes (Fig. 4). The Spanish found them impressive. These canoes were highly decorated and carved. The Taínos put effort into the looks of the canoes, as this was also a sign of power and social class. 
How often did the pre-Taínos and the Taínos travel? A lot! Many lines of evidence support this, and they are all related to culture contact and the resulting assimilation. For example, archaeologists have historically used ceramics as a way of identifying cultural groups because each group often developed its own styles of pottery. But in the Caribbean, this has been quite difficult because there is a constant flux of assimilation and differentiation in ceramic techniques. Other evidence comes from the historical record. There are many Spanish accounts that describe Taínos arriving from other islands, often for the purpose of trading. Indeed, the Spanish witnessed Taínos from Jamaica arriving in Puerto Rico. Additionally, there are historical accounts of other cultural groups, such as the Island Caribs, travelling from the Lesser Antilles to the Greater Antilles also for the purposes of trade, including trading wood for canoe making. More evidence was discovered last year, and this was genetic evidence. In a study that looked at over a hundred genomes, they were able to find several related individuals who lived (or died) on different Caribbean islands! This study concluded that this inter-island network was stronger in the pre-Taíno and Taíno cultures than in the Archaic culture. 
There is no doubt that waterscapes were key to the trading and social networks of the Taínos, thanks to their knowledge and skills around canoe and boat technology. Here we also see an example of how the Taínos interacted with the environment and their surroundings in a way that allowed them to settle, adapt, and grow in their new home.
Burials and Social Structure
One of the most curious changes in Taíno cultural practices happened between the Saladoid and Osteonoid period (mid to late centuries CE), and it was the way they dealt with their dead. What is interesting about this change is that there are multiple archaeological sites in which you can actually see this change through time. It reflects the social and political organization changes also taking place. 
In archaeological sites from the Saladoid period (early centuries CE), it is common to find a communal burial ground, many times in the center of the cacicazgo or at other central location. This communal burial ground is a reflection of the egalitarian nature of the Caribbean inhabitants at the time. Everyone was treated pretty much the same after death.
As we move into the Osteonoid period (starting around 600 CE), we start to see evidence of social and political hierarchy in things like houses and burials. Unlike the Saladoids, the Osteonoids began to bury their dead near the individual's household. This suggests people started seeing themselves of individual households, rather than thinking of the whole community as one. These changes also have other implications. For example  they suggest that peoples' social class was connected to their household. 
Archaeological sites of Cagüana (Utuado, Puerto Rico) and Tibes (Ponce, Puerto Rico) are two of the greatest examples of these changes in burial practices. Both sites were inhabited during both time periods, Saladoid and Osteonoid. Additionally, they also share a similar layout with regards to ceremonial plazas. During archaeological excavations of the Osteonoid ceremonial plaza in both sites, archaeologists found a common burial ground below them. Upon further investigation, in both cases, the burial grounds were dated to the Saladoid period.  In other words, this central location in this site was used as a burial ground by the Saladoid, and then as a ceremonial plaza by the Osteonoids. What was important to them, and what had to be in the center of their village, shifted through time. These findings were truly remarkable, and they gave us a rare glimpse at what social and political change looks like.
The section on Ceremonial Plazas described the areytos of the Taínos introduced us to their belief system. Like any other culture, the Taínos had a particular way of looking at the physical and spiritual world. In this case, both worlds were interconnected. By that we mean that Taíno deities are most of the time tied to the natural world, having natural elements such as water and earth portrayed as anthropomorphic and zoomorphic figures.
To connect to the spiritual world, the Taínos would hold areytos. Key elements for a successful connection to the spiritual world included altered consciousness from hallucinogenic drugs, as well as the powerful cemíes surrounding the ceremonial plaza. Not everyone, however, reached the necessary state to communicate with the gods. This was something usually left for the nitaínos, caciques, and religious leaders, another example of the social hierarchy that emerged in Taíno culture.
The section on ceremonial plazas explains that cemíes are carved sculptures with spiritual power. These carved artifacts are characteristic of Taíno art and mythology, and the spiritual power they granted cannot be emphasized enough. Given their importance, it is not surprising that the most sophisticated and labor-intensive elements of Taíno art and infrastructure were these cemíes (Fig. 5 & 6). For example, ceremonial plazas such as the one in Cagüana could have over a dozen cemíes carved in stone walls. These stone walls were composed of heavy rocks that sometimes were over a meter tall. Getting the stones there and carving them required a lot of work, especially because they did not have metal tools. This speaks to the importance of these plazas and the cemíes themselves. What is also fascinating is that the power and status of Taíno caciques came from two main sources: the number and size of the ceremonial plazas in their cacicazgos, and the actual power of their cemíes. 
Taínos believed in multiple gods and deities, each with a contribution to the world. For example, their religious stories explain how deities created the world and the ocean, how they found fire and cassava, and more. Additionally, the Taínos also had complex beliefs about their own origins. They believed that their ancestors were descendants of the island of Hispaniola. In their view, the island itself was a feminine living creature. Furthermore, they believed that its caves were connectors between the living creature and the outside world. These caves represented things like heaven, the underworld, the place of creation (womb), and even one for waste (because they saw Hispaniola as a living creature). As it would be expected, the Taíno also had a prophecy about the end of the world.